News
Something for the Moms: Mother's Day Gift Ideas
by Michelle Czarka on May 11, 2023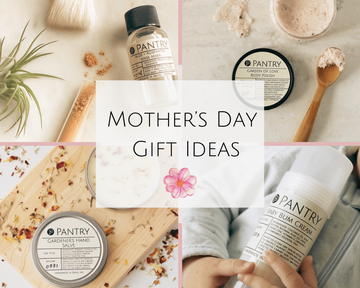 Moms are the hardest work folks out there + they deserve to be treated like the real queens they are.  Whether your mom is near or far, a new mom or one with decades of experience, into running or relaxing, Pantry Products has the perfect gift for her.
Check out our Mother's Day Gift Guide below!
---
What do all moms need? A relaxing night in with no distractions + all sorts of relaxin'. To help set the solo mood, grab her some pamper items to set up a night of "Mommy Me Time".
Sea Salt Soak | Soy Wax Candle | Hand + Body Lotion | Exfoliating Body Polish
---
Is your mom into all things beauty-related + always on the search for new products to help her feel even more gorgeous? We have plenty of products to enhance her natural beauty.
Honey + Lemon Exfoliating Face Scrub | Refresh + Repair Serum | Rose Quartz Roller | Lip Lustre Mineral Lip Gloss
---
Motherhood is no easy job + its hardest on those newest to it. New moms run on little sleep + a lot of worry. Help set their minds at ease by gifting them a few all natural products for her + her littlest love!
For baby: Baby Bum Cream | Bubbling Baby Bath
For mom, Nourishing Tummy Cream | Nursing Salve | Bedtime Sea Salt Soak
---
Nobody bends over backwards for you like the active + adventurous mom in your life. But, does she have the essentials to also take care of herself? Here are some of our favorites for the hiking/ biking/ running/namaste-ing  mums.
SPF 15 Lip Balm | Arnica Muscle Salve | Purifying Yoga Mat Spray | SPF 30 Sunscreen Stick
---
Where my dog mom's at? Bless the dog mom in your life with our products to clean + protect the fur babies in her life.  
Dirty Dog Wash | Dog Deodorant | Puppy Paw Protector
---
For the mom who has it all or who prefers to shop for herself, we have two options that you simply can't go wrong with.
Monthly Wellness Box | Gift Card
---
We hope this gift guide helps shopping for moms a little easier. As mentioned above, stayed tuned for sneak peeks of our curated gift boxes.
Happy Mother's Day to all the beautiful Moms out there. You deserve all the praise, adoration, + pampering everyday! Way to take on the hardest job there is + look good while doing it!
XO - The Pantry Team