News
3 Simple Swaps to Make Today for a Healthier Tomorrow.
by Michelle Czarka on May 11, 2023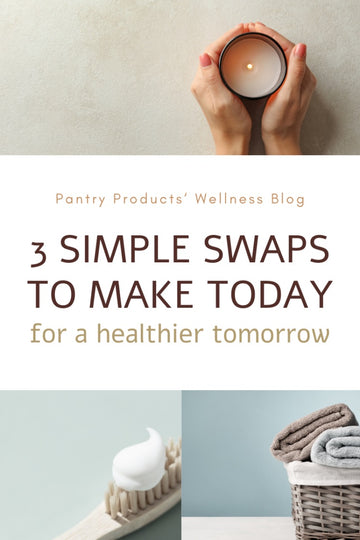 We understand that the thought of making the switch to clean products can feel like a daunting process. When you look around at all the products in your home + all the products on the market, it can be completely overwhelming.
But, as with all change, you need simply to make the decision to start + then do so with small changes. You don't need to throw out every household, personal + skin care product in your home + start new. With a few simple swaps, you will be on your way to making a healthier home for you + for your family. And let me tell you, once you get started (+ once you see how easy it can be), it will feel so good that you won't want to stop.
To getting you started, here are 3 simple swaps you can make today for a healthier you + healthier home.
Remember: Health is NOT only about what we put IN our bodies for food, it's also about what we put ON our bodies + what surrounds us.
3 Simple Swaps for a Healthier Tomorrow
1. Swap out toothpaste for coconut oil
For something that 69 percent of people put in their mouth at least twice a day, toothpaste is surprisingly toxic. While traditional toothpaste is effective at removing + preventing plaque build-up, preventing cavities, + fighting gum inflammation, a lot of its ingredients are unsafe.
The most common reason parents call Poison Control is because their child has swallowed (or intentionally eaten) toothpaste. Eating toothpaste that contains the ingredient fluoride can result in diarrhea, nausea, vomiting, and other low-grade gastrointestinal symptoms.
While most of us won't swallow an entire tube of paste, many mainstream brands of toothpaste contain harmful or even toxic ingredients, including:
Triclosan. A pesticide and hormone disruptor.
Sodium lauryl sulfate (SLS). Causes canker sores for many people.
Artificial colorings. Linked to ADHD and hyperactivity in children.
Fluoride. Toxic if swallowed and doesn't even work in toothpaste.
Highly abrasive ingredients. Damage enamel, making teeth sensitive and more prone to gum recession and cavities. Toothpaste should only be a little bit abrasive—this graininess aids the brushing motion to remove the biofilm of the tooth.
SIMPLE SWAP: COCONUT OIL PULLING
Instead of starting your day with a mouthful of chemicals, reach for a pantry staple: Coconut oil.
You can use coconut oil like you would use a mouthwash – you "swish" it around your mouth and between and through your teeth and gums – just don't swallow it or try to gargle with it. This practice is  called "oil pulling," and it's an ancient health practice that an increasing number of today's dental hygiene researchers are recommending in addition to brushing and flossing. Oil pulling with coconut oil attacks bacteria, whitens the teeth, and strengthens the gums – naturally.
Prefer a paste? There are hundreds of DIY recipes on the web but what we LOVE is to mix Pantry's Tooth Powder with coconut oil to make a simple at-home paste that cleans + whitens teeth, improves gum health, pH balances your mouth + gives you that "Fresh from the dentist" feeling.
---
2. Swap out fabric softener for distilled white vinegar
Liquid fabric softener + dryer sheets are filled with synthetic fragrances + chemicals.  These chemicals + synthetic fragrances become embedded into the fibers of our clothing.  Once the clothing is on our skin, our largest organ, they become absorbed into our bloodstream.
Fabric softeners became popular in the mid-1900s because the dyes, detergents, + dryers were harsh on clothes, making them rough + scratchy. However, with better technology, fabrics, + laundry products, fabric softeners are no longer necessary, yet are still very commonly used + most people don't think twice about it.
You might have noticed on some tags, especially with performance clothing, they specifically say NOT to use fabric softeners. This is because the waxy coating can interfere with moisture-wicking + absorption properties. Athletic fabrics are designed to wick moisture from your skin to the outside of the fabric, where it can evaporate, but if you cover the fabric in a waxy coating it's like plugging up a drinking straw + it blocks the ability to move moisture. The coating also builds up over time, making it harder for water + detergent to permeate the fabric, so odors + stains are more difficult to get out. Odors that become sealed in are the reason your gym clothes just won't freshen up.
Almost all fabric softeners and dryer sheets contain chemicals classified under federal law as carcinogenic, toxic, + hazardous to personal and environmental health including benzyl acetate (linked to pancreatic cancer), benzyl alcohol (an upper respiratory tract irritant), ethanol (linked to central nervous system disorders), limonene (a known carcinogen), chloroform (a neurotoxin and carcinogen), and others.
Synthetic fragrances in dryer sheets aerate in the heat of the dryer + can be inhaled immediately upon use triggering respiratory dysfunction. Because softener residue is designed to linger in fabrics, exposure to chemical scents + other ingredients that irritate sensitive skin (including babies) is prolonged.
These chemicals disperse into the air of your home, where you breathe it in. They also wash into the waters, ending up in ecosystems where they don't belong and damaging aquatic environments for plants + animals.
SIMPLE SWAP: DISTILLED VINEGAR
Replace your liquid fabric softener with 1/2 cup of distilled vinegar. While this may smell strong at first, don't worry! The odor washes out with the water. Or you can mix in 5-10 drops of your favorite essential oil like lavender or lemon.
But why? Distilled white vinegar brightens + whitens, it deodorizes + it softens all without toxic chemicals + waxy build-up.  And let me tell you, the first time I used white vinegar on my athletic apparel, I couldn't get over how soft + fresh they were. Like, I was no joke rubbing my sports bra on my cheek. IT WAS SO SOFT!
Love your dryer sheets? We have two bonus simple swaps for you.
1. Use wool dryer balls with essential oils. Dryer balls soften clothes, freshen their scent + speed up the drying time.
2. Make your own eco-friendly, non-toxic dryer sheets like these. We love making the kids hunt for them in the dry laundry. ;)
Pantry Suggestion: We have heard from so many Pantry loyalists that they use our Air + Linen Spray to freshen + scent their laundry. Upon pulling your items out of the warm dryer, give them a healthy spritz of our Air + Linen Spray. The warm fibers will lock in the scent as they cool + when your body temperature warms them back up, the scent will be released. I LOVE using our Sweet Dreams Essential Spray for sheets.

---
3. Swap out toxic candles + air fresheners for a stovetop simmer pot
We all want our home to smell fresh + clean. But oftentimes, the products we are using to do so are anything but fresh + clean. Most air fresheners + candles contain synthetic fragrances added to the product which can be extremely harmful to our health. Those mood-setting candles are one of the biggest sources of toxic chemicals in our homes. When the windows are closed up (hot summers with the a/c on or cold winters with the heat on), they chemicals build up creating an extremely hazardous environment.
SIMPLE SWAP: STOVETOP SIMMER POT

Also known as stovetop potpourri, this is simply a simmering pot of fruit, citrus, spices, and other ingredients that make your home smell amazing! Bonus: if you live in an arid climate, this is a fabulous way to add some moisture to your air.
These are very popular in fall and around the holidays but I love to use them year round. For summer, use lemon or grapefruit with a splash of vanilla extract. Or you can do herbs like rosemary + thyme. Or boil a few fresh basil leaves or springs of lavender. Yum!!!
Still want that candle? Well, good thing for you, there are healthy candle options on the market. When shopping for a new candle, look into the candle ingredients. Stay away from paraffin wax + opt for soy, hemp, bee or coconut wax. Then, check the fragrances. You want to burn candles that use essential oils or clean (phthlate-free) oils.
Fortunately for you, Pantry's entire collection of candles are 100% soy wax, 100% phthlate-free, and feature clean burning wicks. So, you can have the comfort of a cozy candle without the cancer-causing chemicals.

Have you tried any of these swaps? What are some of your favorite simple swaps?
Be sure to subscribe to our e-newsletter + follow us on social media to stay in the know about natural products + simple swaps.
Until then, be well!
Michelle
About Pantry Products:
Since 2015, Pantry Products has been handcrafting 100% natural plant-based daily essential + on-trend wellness products that support and contribute to healthy lifestyles…and a healthy planet. Pantry began when Founder, Michelle began creating healthy alternatives to toxic personal care products using ingredients pulled directly from her kitchen pantry.