News
6 Pantry Road Trip Essentials - Be Natural Out in Nature
by Michelle Czarka on May 22, 2023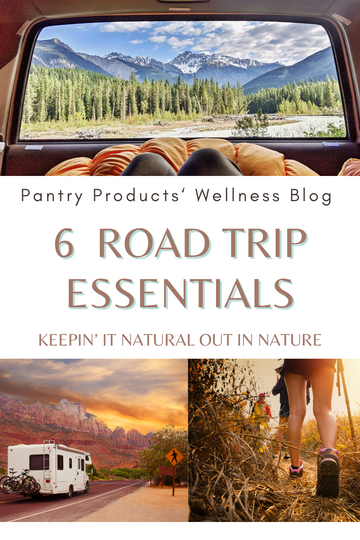 As Memorial Day approaches, many of us are eagerly planning our long-awaited road or camping trips in order to leave the concrete jungles and reconnect with loved ones and with Mother Nature.  
To help you make the most out of your adventure, we've compiled a list of essential Pantry items that should definitely be packed into your travel kit. From shielding yourself from the sun's rays to safeguarding against pesky bug bites, these products will ensure a comfortable and enjoyable journey.
SPF 30 Mineral Sunscreen: As you hit the open road and embark on outdoor activities, protecting your skin from harmful UV rays is paramount. Opt for a natural sunscreen with a broad spectrum, SPF 30 or higher, to shield yourself from both UVA and UVB rays. Our mineral sunscreen Look for products contains zinc oxide to provide effective sun protection without the use of harsh chemicals. Remember to reapply every two hours, especially after swimming or sweating.

After-Sun Cooling Spray Sunburn Treatment: Even with precautions, sunburns can still occur, so it's essential to have a natural sunburn treatment on hand. Our After-Sun Spray embraces aloe vera's anti-inflammatory properties to soothe sunburned skin, fractionated coconut oil to replenish lost moisture, vitamin E to heal + peppermint + eucalyptus essential oils to cool. Not burnt but overheating in the sun? This spray acts like A/C in a bottle delivering a refreshing, cooling effect on your skin.

Bugs-Be-Gone Spray: Exploring the great outdoors often means encountering insects that can put a damper on your adventure. To ward off mosquitoes, ticks, and other annoying bugs, bring along our natural bug spray containing cedar, lemongrass, lavender and other pest-repelling essential oils. Avoiding synthetic chemicals like DEET allows you to enjoy nature without compromising your health or the environment.

Bite Me! Bug Bite Treatment: Despite your best efforts, pesky bug bites may still occur during your outdoor adventures. To relieve itching, redness, and swelling, bring along Pantry's Bite Me!: our natural bug bite treatment. This blend of essential oils combined with fractionated coconut oil can help reduce itching and inflammation, providing much-needed relief.


Squeaky Clean - Eco-friendly Tush Refresher: When you're on the road or camped out, you may miss the comforts of home. Especially your bathroom. To help you feel your freshest when experiencing alternative living arrangements, take our Squeaky Clean with you. A non-toxic, low-waste replacement for personal care wipes, Squeaky Clean turns everyday toilet paper into a refreshing bathroom experience. 

Dry Shampoo- Being out in the elements usually means less showers. Keep your locks looking and smelling fresh with our natural dry shampoo. This powder-based must-have absorbs oil without the use of cancer-causing propellants like benzene. Bonus: it also works as a body powder to help absorb sweat + reduce skin friction.
Memorial Day road trips offer a wonderful opportunity to connect with nature and create lasting memories. By packing the right natural products, you can ensure a safe and comfortable journey. Remember to prioritize sunscreen to protect your skin from harmful UV rays, bring bug spray to ward off pesky insects, have sunburn and bug bite treatments on hand in case of any mishaps, and bring products to help freshen you up in between lake dips.
Have fun, be safe + we hope your Memorial Day a memorable one!