News
Fire Cider: What, Why + How to Make Your Own
by Michelle Czarka on Mar 31, 2023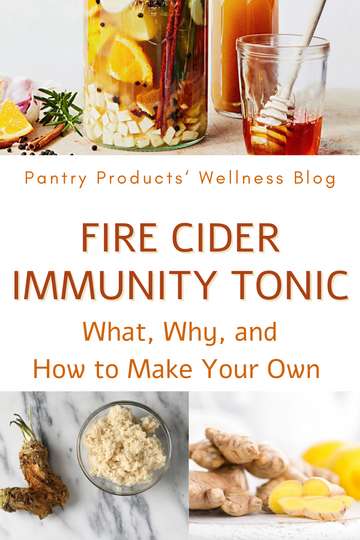 Cold, flu + COVID season is here! Ugh! Boost your immunity + fend off illness by whipping up a batch of your own Fire Cider.
What is Fire Cider?
Like elderberry syrup, fire cider is a tonic is folk recipe revered by herbalists for its ability to support the immune system during cold + flu season, allergy season, or any time the immune system needs support.
It's a spicy, delicious tonic that's made by infusing apple cider vinegar with powerful immune-supporting, lymph moving, circulation-stimulating, antioxidant-rich + digestion-enhancing roots + herbs. It was developed by renowned herbalist Rosemary Gladstar, author of Herbal Recipes For Vibrant Health and many other herbal books.
Why Fire Cider?
This tasty vinegar infusion powered by warming and wellness-supporting ingredients is an especially pleasant + easy way to boost natural health processes, stimulate digestion, and raise your internal thermostat on cold days. Mmm...mmm!...how we love this hot and sweet, zesty, vinegary recipe!
How to Make Your Own Fire Cider?
Because this is a folk preparation, the ingredients can change from year to year depending on when you make it + what's growing around you. The standard base ingredients are apple cider vinegar, garlic, onion, ginger, horseradish, and hot peppers, but there are plenty of other herbs that can be thrown in like thyme, black pepper, + cloves.
How to Use Fire Cider?
Fire cider is as diverse in its usage as it is in its ingredients. Here are some ways you can use it:
- taken straight by the spoonful or as a shot
- added to organic veggie juice (throw in some olives and pickles for a non-alcoholic, healthy bloody mary!)
- splashed in fried rice
- drizzled on a salad with good olive oil.
- used as a divine marinade for chicken or pork
You can also save the strained pulp and mix it with shredded veggies like carrots, cabbage, broccoli, and fresh herbs to make delicious and aromatic stir-fries.
Ready to make your own? Here's our recipe but feel free to add your own flair to it.
Equipment:
1 -32 oz jar with tight-fitting lid
parchment paper
cheesecloth
Ingredients:
2 cups apple cider vinegar

1 c onion, chopped

1/4 c turmeric, sliced

1/2 head garlic, diced

1/4 c fresh ginger, sliced

1/4 c fresh horseradish root, sliced

1 jalapeño, sliced

1 lemon or orange, sliced

1 jalapeño, sliced

1 sprig fresh rosemary or thyme

1/8 t cayenne pepper

1/4 c honey, more or less, as desired

 

Directions:

Prepare your ingredients as indicated above + place them into your jar.

Pour in apple cider vinegar until all ingredients are covered + it reaches the top of the jar

Use a piece of

 

parchment paper under the lid to keep the vinegar from touching the metal. Shake well.

Store in a dark, cool place for 2-4 weeks + shake daily. Place it somewhere you'll see it!

After one month,

strain out the pulp + pouring the vinegar into a clean jar (or pour into a pot or bowl and then back into the jar). Be sure to squeeze as much of the liquid from the pulp as you can.

Compost or dispose of pulp. However, it can also be tasty in a stir-fry.

Add honey + stir until incorporated.

Taste your cider + add more honey until you reach the desired sweetness. 

Store in the refrigerator or, because fire cider is preserved in apple cider vinegar, it is completely shelf-stable + can be stored in a cool dark place.

 

Let us know in the comments if you make this recipe + what you think about it? We'd love to meet fellow fire cider fans!
Be well!
Michelle