News
The Oil Cleansing Method: Why + How to Support Your Skin's Microbiome
by Michelle Czarka on Mar 31, 2023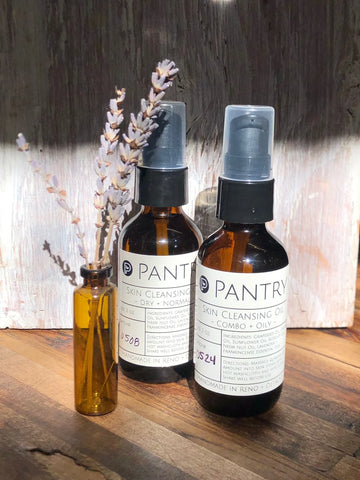 When Pantry Products first started, I was crafting  handmade, natural wellness products that made fab gifts to give or receive. Those items that maybe you wouldn't buy for yourself but you would adore to receive.
As we grew + I learned more about the hazards hiding in our bathroom cabinets, my passion switched to creating healthy, daily essentials folks could trust to be truly natural + effective. Truly natural everyday essential products that could replace those chemical-filled bottles that we use everyday are slowly harming us. ⁠ ⁠
The first step into daily essentials was a big one + I jumped as far as I could from everything I'd been told⁠ about skincare: You wash your face with soap.⁠ ⁠
When I heard about The Oil Cleansing Method, I thought it was a joke. Put oil on my annoyingly dry-and-yet-oily face to clean, clear pores, + control oil!? Completely ludicrous!
Then I tried it + I could not believe the immediate (+ ongoing) change my skin experienced. My pores were CLEAR, my dry spots were hydrated, my oily spots weren't shiny. I felt amazing! And the more I used it, the better my skin became. ⁠

Ok, so what is the Oil Cleansing Method (OCM)? ⁠ ⁠
It's a method to deep pore cleanse popularized by the ancient Greeks + Egyptians to remove dirt, impurities, + makeup from the pores of the skin.⁠ ⁠
But how? ⁠
⁠A mixture of skin-nourishing oil is massaged onto damp skin. Massaging causes your skin's sebum to rise up bringing excess oils + pore-clogging dead skin cells with it. The cleanser (and all the dirt + oil is has collected) is then steamed off + wiped away with a hot washcloth.⁠ ⁠ What you'll see: incredibly clear pores + clean skin that is perfectly hydrated.
Check out our how-to video to see OCM in action.
What you don't see is your skin's microbiome doing a happy dance.
"My what?!"
Your skin's microbiome (also called microbiota or skin flora) is a healthy, diverse population of beneficial bacteria thriving on our skin that is vital to overall good health. A happy, balanced skin flora results in skin that looks + feels healthy while an unbalanced flora/microbiota (when there's more harmful bacteria than helpful bacteria), leads to issues irritating skin issues like dryness and itching.