News
The Amazing Healing Benefits of Calendula
by Michelle Czarka on Mar 31, 2023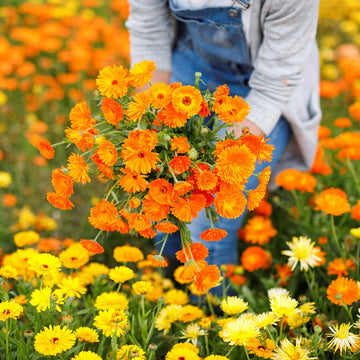 Whether you're a long time Pantry Product fan or new, we love to educate on our products and the ingredients we use.
We strive to use only the best ingredients out there. One that can nourish our bodies whole without all the unnecessary ingredients the big brands corp uses.
That being said, we'd like to highlight on our favorite ingredients: Calendula because we're springing forward into spring!
What is Calendula?
Calendula or marigold, is a native flower from the Mediterranean.  These sunny flowers have been extracted for their benefits for thousands of years.
Why Calendula?
It has anti-inflammatory properties
It can treat various skin conditions from diaper rashes, wounds, vaginal yeast infections, etc. 
Studies have shown that calendula offers sun protection + can help with cell rejuvenation.
The oil from calendula accelerates wound healing, especially when mixed with aloe vera. Studies have shown when calendula is applied every 8 hours for 5 days, it showed improvement in symptoms like redness, swelling, and bruising.
Calendula extract can help treat acne  
Calendula may relieve eczema and psoriasis.
Calendula may improve the overall appearance of your skin by promoting hydration and firmness.
The flowers contains high level of carvacrol, which helps promote liver regeneration.
It also contains flavonoids to promote skin healing, with the help of beta-carotene and phytosterols.
Whew, that's A LOT, huh!? It's no wonder we love to incorporate calendula in our products
Where can I find it in Pantry Products?
Have you discovered the magic that is calendula? 
Lainey