News
We are Pantry Products
by Michelle Czarka on Feb 18, 2022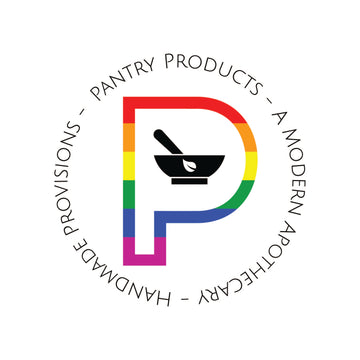 Hello all!
As we venture into a new season, a new month, and soon, a new city, we thought we would take some time to introduce ourselves to any new followers….or to those who have been with us for some time but are not quite sure who we are exactly. 
Since 2015, Pantry Products has been handcrafting natural products aimed at contributing to healthy lifestyles. Recently, we began working with Em Deane of Locals Creative to strengthen our message + our brand. Over the next few posts, we will be unveiling our new brand strategy + sharing some of the magic we have created with Em with you. To start, let's talk about Pantry's Mission, Vision, + Values. 
Mission Statement
Pantry Products is dedicated to crafting 100% natural daily essentials + to providing wellness education to health-conscious consumers passionate about caring for themselves + for the planet. 
Vision Statement
Pantry Products strives to educate + to create products that make our people + our planet happy. 
Values
Our 3 core values are Transparency, Approachability, Sustainability

How do these play out in Pantry Products, you ask? Well, here we go…
We are Transparent
We aim to offer transparency in all aspects of our business. We listen to what our customers want. We strive to help our customers be the best they can. We are clear about who we are, what we do, what we have planned for the future, and what we stand for.
Currently, we are in the process of opening our Salt Lake City production + fulfillment location. We are expanding so that we can craft the products our customers have come to love with faster turnaround times.
We are Approachable
We are here for your feedback, for your questions, for your ideas. We strive to be educators for natural products + for our planet.
We love you all! We wouldn't be here if it wasn't for you. Our extensive product offerings come from customer suggestions. At our in-house workshops, we work alongside you in crafting your own natural products to take home. (This summer, we look forward to reintroducing our in-person workshops as well as engaging in more community events.) We love to talk natural products with our visitors + we are always willing to provide information on the best products/ingredients for your personal use. 
We are Sustainable
We don't do it because it's cool. We do it because we care. We aim to use locally-sourced, non-GMO, and organic materials whenever possible. We work to reduce, reuse, recycle in every aspect of our production + business operations.

There are quite a number of ways that Pantry aims to be sustainable.
Here are some:
– We have recently re-launched our product refill program where we offer a 10% discount on refills of your favorite Pantry Products.
– We offer mask + glove recycling in our Wells Ave. shop
– We have a TerraCycle Beauty Products + Cosmetics Packaging Recycling Box for recycling containers from all your household cosmetics + personal care products.
– Our orders are packed in recycled boxes with reused and/or recycled materials that can easily be recycled or reused. 
Stay tuned for more information to come on Pantry and what defines our brand.
Until then, be well + be kind!
Michelle + the Pantry team