News
Cold Weather Skincare Edit
by Michelle Czarka on Feb 18, 2022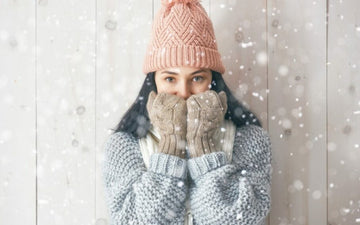 We've changed back the clocks, we've traded in our sandals for boots, and we've dug out our favorite scarves. But there's still more changes to make. One we don't always think about is how a change of season requires a change in skincare. Much like how we change up our wardrobe to better protect our bodies when cooler weather rolls around, we must also change up our skincare to help protect our skin.
In the winter, your skin loses more than 25 percent of its ability to hold moisture. To make matters worse, skin experiences a drastic drop in hydration with outside humidity levels plummeting + the addition of moisture-dissolving indoor heating. Add to that freezing winds, and your face may feel less than glorious.
So, how do we prepare for the harshness cold weather is bringing our way? The Pantry team has your back with a few simple steps for tending to your tender skin this winter.
1. Trade soap for a hydrating oil cleanser.
Soap strips your skin of much-needed oils. Swapping soap for a hydrating cleansing oil, like Pantry's Oil Cleanser, can help prevent dry, dehydrated winter skin. The grapeseed oil in this cleanser dissolves dirt + make-up while providing your skin with the nourishment it needs. And it'll keep it balanced!
2. Layer up your moisture
When temperatures drop, humidity does too, meaning skin loses moisture, becoming irritated + dehydrated. The good news is it's easy to prevent by adding an extra layer or two of protection between you + the elements.  Hydrating boosters like Pantry's Moisturizing Mist and Make-up Priming + Setting Spray are packed with skin-essential ingredients for on-demand hydration.
If your skin is thirsty for more than a spritz, reach for Pantry's Little Coyote's Cold Cream. An emulsion of water + oils, this multi-purpose cream has been used by generations of women to treat dry skin. While most experts stress that skincare products are either A. hydrating with water or B. moisturizing with lipids, Cold Cream offers both skincare benefits in one unique product! The water does the work of hydrating skin while the oils act as a moisturizer, sealing in the hydration.
3. Make time for masks
A mask is a great way to moisturize your skin, quickly while giving yourself some always-needed pampering. To ensure your skin gets the most hydration possible, mix your favorite Pantry's Clay Mask  with moisturizing ingredients such as Greek yogurt, honey, avocado, or coconut milk. Then, just lie back in your comfies + let your mask do the work for 15 minutes.
4. Don't skip the sunscreen
In the winter, with the lower doses of ambient and infrared light, people often think, What's the point?  But even your office lighting + your phone screen can be harmful, so it's important to ensure your skin is fully protected with UVA, UVB and infrared light protection. Pantry's zinc-based 30 SPF Sunscreen contains vitamin e, carrot seed, + red raspberry seed oil to not only block harmful rays but also to hydrate + soothe winter skin.
5. Protect your kisser
And last but not least, take care of your lips. They're first to feel the effects of cold (+ the central heating)so be sure to pay some extra attention to them. Pantry's handpoured lip balms are just the thing to keep your lips soft + protected…from winter + from the harmful rays of the sun. If the cold still manages to take your lips from soft + supple to dry + flaky, treat them to some exfoliation with Pantry's Vanilla + Mint Lip Scrub.
No matter how cold it gets, Pantry has a winning winter skin care routine to help keep your skin hydrated + feeling happy. We always welcome questions on how to achieve your healthiest skin.
Stay warm!
Michelle