News
DIY Pumpkin + Turmeric Face Mask
by Michelle Czarka on Mar 31, 2023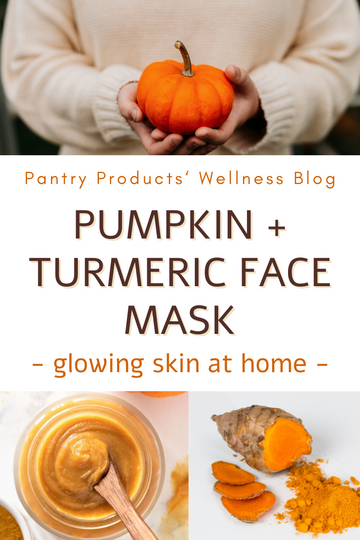 Apart from being delicious, pumpkin + fall spices are also crazy good for you/your skin.  Join us on a virtual stroll through fall to discover the benefits as well as find a couple pumpkin spicy beauty recipes you can make at home.
PUMPKIN
Thanks to high levels of beta carotene + vitamin C and E, pumpkin protects your skin against UV damage, free radicals, + premature wrinkles and sagging. As if that's not reason enough, studies have shown that the yellow-orange pigments, called carotenoids, lend a natural glow to the skin. Pumpkin is also a natural exfoliant that helps slough off old skin cells + supports the regeneration of new ones. The fruit enzymes, alpha hydroxy acid, and vitamin A (aka 'retinoids') in pumpkin break down the "glue" holding old, dead skin cells on your face, and allows them to fall away naturally. When you're done, you're left with a bright, clean, refreshed skin surface!
AND SPICE… 
CLOVE
Not only is clove an aphrodisiac (hubba hubba!) but it can also work wonders on your skin. It's anti-bacterial + anti-fungal properties make it a powerful tool in the treatment of breakouts. Since clove is a highly potent antioxidant, it helps in maintaining the collagen level of the skin which prevents premature aging.  Bonus: the above-mentioned antibacterial properties also means that clove can help to promote oral health + it has been used to treat oral problems since ancient times. This is why it was a must-have ingredient for our Tooth Powder. Please note: clove oil is very strong! Always dilute clove oil with a carrier oil to prevent burns. 
CINNAMON
The anti-fungal, antioxidant +  antibacterial properties of cinnamon make it one of the best spices to spice up your skincare. It improves blood flow to the surface of the skin, resulting in a hydrated skin while helping to fight against acne + skin blemishes. Bonus: it makes a great lip plumper! Add a couple drops of cinnamon oil to any carrier oil for a lip boost or pick up a tube of our Spiced Chai Lip Balm.
GINGER
With 40 antioxidant properties, what can't you do with this invigorating spice? Rub fresh ginger directly onto your face to ease inflammation, boost skin tone + fight blemishes. Pair it with honey + lemon juice to improve elasticity, clean up breakouts, and brighten skin tone. (Just be careful around your eyes.) Want a little more invigoration? Grab a pouch of our Warming Chai Milk Bath to boost your circulation, moisturize your skin, + treat your senses to a bouquet of seasonal scents.
NUTMEG
Nutmeg is considered a wonder spice for good reason. It eliminates irritation + inflammation on your skin by smoothing out its appearance + promoting hydration. For those with acne scarring, nutmeg can help soften the appearance of scars as well as sun spots. It is highly recommended for individuals with dry skin as it aids in exfoliation + moisturization but it also helps those with oily skin due to its antiseptic, antiviral, and antibacterial elements. These elements help to reduce excess oil production + the clogged pores it brings. And, if that wasn't enough, it also works wonders as a toner. Win, win, win! Feeling nutty for nutmeg? Our Autumn Spice Body Polish is just the thing for you! This sweet + spicy combination works to exfoliate + moisturize dry skin while smoothing out imperfections.
TURMERIC
Also known as the golden root, turmeric is a must-have spice in your wellness regimen! It contains antioxidants + anti-inflammatory components that help beat back breakouts + break up clogged pores so your skin can glow. Another one of the major benefits of turmeric for your skin is its ability to boost collagen production + speed up the body's ability to form new, healthy tissue. It also blocks elastase, an enzyme that attacks your skin's ability to produce elastin. If elastin production slows down, fine lines, wrinkles and sagging are more likely to appear. Luckily, turmeric is full of antioxidants that mop up these skin-damaging molecules and dial down the potential effects of environmental damage. And speaking of environmental damage, turmeric is also beneficial in the battle against hyperpigmentation. Since it inhibits the production of melanin, the pigment responsible for dark spots and other kinds of hyperpigmentation, using turmeric regularly on your skin can fade away discoloration to give skin a more even-toned appearance!
Now that you've read up on the benefits of these autumnal superstars, let's bust open those pantries + mix up some skin care treats!
DIY Pumpkin-Turmeric Face Mask
Ingredients
2 tablespoons canned pumpkin puree
1 teaspoon coconut oil, melted
½ teaspoon turmeric
1 tablespoon oats, ground
Instructions
In a small bowl, mix puree, coconut oil, and turmeric. In a blender or food processor, pulverize oats into a fine powder + sprinkle into pumpkin mixture. Apply to face + neck and leave on for 20 minutes. Before rinsing, gently work product into face in circular motions. Rinse and moisturize.
---