News
Spring Cleaning with Castile Soap + Easy DIY Multipurpse Cleaner
by Elaine Lee on Mar 31, 2023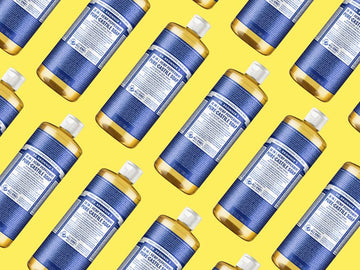 Photo by Dr. Bronner
Awhile ago, I had purchased a big bottle of Dr. Bronner's Castile soap, as an alternative cleanser to the popular Green Soap for my tattoo studio.  (Fun fact, because they have almost similar ingredients to Green Soap, it's safe to use to clean an open wound.) Ever since I had step away from doing tattoos, I still have the bottle of castile soap.
I had ran out of my usual household cleansers. Yes, that Clorox, 409, Method...You get the picture. But I still had this bottle of Dr. Bronner's. So, I did research on the uses for castile soap. As it turns out, even advertised on every Dr. Bronner's Castile Soap, the soap can be used as an alternative to household cleaning. Surprise, surprise! I found an old empty spray bottle, poured a little bit of castile soap, and diluted with water. Cleaning day is back on track!
What is castile soap and what are the uses?
Castile soap was historically produced from olive oil in Spain. Fast forward to present day, most castile soap is made from coconut oil, hemp oil, or castor oil. Castile soap comes in both liquid and bar forms. 
Castile soap is a true megastar for cleaning, from body to housecleaning to even killing pesky aphids on plants.  It cleans gently while still being effective. For it to be used in cleaning, castile soap must be diluted for it to clean properly. The only drawback is when you dilute castile soap, you must use purified water or use a water softener because hard water leaves behind a white film residue.
Got a bottle of barely used castile soap? Fret not! Here's how you can make your own multipurpose cleanser using castile soap!
Ingredients:
1 tablespoon of castile soap
1 cup of distilled water
10-15 drops of essential oils of your choice (I used lemon and peppermint in mine)
How To:
Get an empty glass bottle and add drops of your desired essential oil combinations into the bottle.
Measure out the castile soap and water, then add it into your bottle.
Give your bottle a good shake to combine the castile soap, water, and essential oils. Be sure to label and date your spray. Just like that, you can start cleaning your house!
Tips:
For disinfecting, use tea tree oil, and let it sit for 3 minutes before wiping.
For abrasive scrubbing action, sprinkle some baking soda to the surface you're wanting to clean, like the bath tub. Spray with your homemade all-purpose cleaner, and scrub away!
Let us know your thoughts on this awesome eco-friendly, multi-purpose cleaner!
Have fun spring cleaning!
XO,
Lainey