News
5 Easy Eco-Friendly Swaps to Make Today
by Michelle Czarka on Apr 11, 2023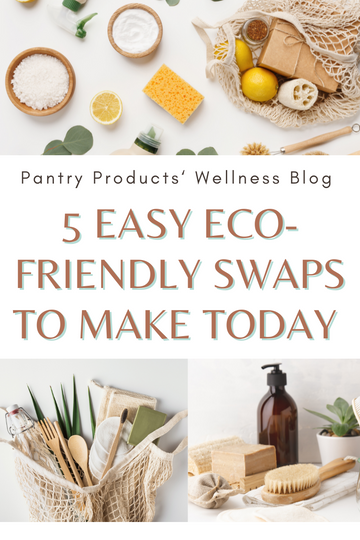 April is Earth Month so we're sharing 5 easy Mother Nature-approved eco-friendly swaps you can make today.

🌎 Refill your empty bottles, don't just re-buy new ones.
Refill/bulk shops have always been around (my first job was a bulk food shop waaaaay back in the 90s). But more are popping up every day. Search your area for them + bring in your own containers to fill up. Bonus: you'll save money too!


🌍 Bring those reusable bags when shopping.
We all have a stash of reusable bags. But we do all bring them shopping with us. Get in the habit of grabbing a bag even if you don't plan to buy anything. Find yourself checking out with a cart full of groceries but your bags are in the trunk? No problem! Put your groceries back in the cart and bag them at your car. 
We ADORE this bag from Gladfolk.


🌏 Say "no" to single use cups + plastic ware and "yes" to reusable cutlery + glasses
It never fails that you treat yourself to lunch or a cool beverage and end up with a bunch of single-useplastic. Instead, bring your own set of cutlery + your own reusable drink containers to help save the planet while looking quite stylish. 
I personally have (and love) this set from Bamboo Switch.


🌎 Ditch single cotton balls or rounds + pick up some washable bamboo rounds.
Not only are they better for the environment but bamboo rounds are also gentler on your skin. Most often, they come in multi-packs with a mesh bag for tossing them all in the wash. 
Our customers love these ones from Nash + Jones.


🌍 Swap out those giant plastic shampoo + conditioner bottles with low waste bars.
They're fabulous for your hair, fabulous for the environment, and way easy to pack than those salon bottles. 
And we're not usually ones to pat our own backs but we think our Rosemary + Spearmint Shampoo Bar is pretty darn amazing. 

Are you making eco-swaps this month? Tell us about it in the comments! We're always looking for ways to treat our Mother better.

#ecofriendly #lowwaste #earthmonth #refill #ditchsingleuseplastic #shampoobar