News
Meet the Maker: Q + A with Lisa Mecham, founder of Lunar Herbals
by Michelle Czarka on Apr 12, 2023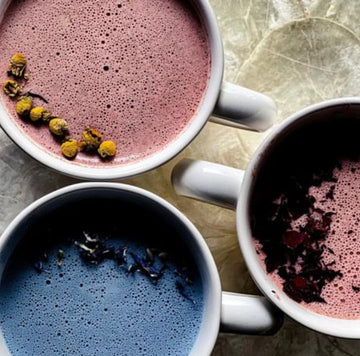 This Saturday, April 15th, our Small Business Saturday pop-up will feature
Lunar Herbals
, a Utah-based, woman-owned business creating effective plant-based drink mixes for your healthy lifestyle.
Prior to our pop-up, we wanted to learn more about Lunar Herbals and it's founder, Lisa Mecham. We are delighted to share a little Q + A…
Pantry: Lisa, thank you for taking the time to share a little about Lunar Herbals and the passion that drove you to create it. When did you decide to start your business? 

Lisa: After watching one of my children experience the intense and scary side effects of common anxiety and ADHD medications, we decided to go all in on alternative forms of healing. 

One huge aspect of my journey was studying herbalism. We also started implementing daily movement, meditation and balanced nutrition. This allowed us to effectively eliminate the need for medication and find lasting and incredible results. Today, I'm happy to report that my child has the best grades they have ever had, is organized and creates incredible systems for themselves, and is so much more positive and happy in general.

Each formulation at Lunar Herbals has taken years to perfect and has been a consistent part of our family routine.

Our debut line of products features effective plant-remedies to help you sleep better, feel happier, boost mental clarity, and even feel deeper connections to those around you.
P: What inspired you to create Lunar Herbals?

L: Honestly, I wanted to share this with the world and see just how much good I could do with it. That's why with every single purchase from Lunar Herbals, we are able to donate 15 nutrient-rich meals to a child in India through our partnerships.

P: What were the challenges in sourcing and formulating each product?

L: Honestly, I did not expect sourcing to be such hard work and mentally draining. However, it's been so important to create a filler-free, potent and highly effective product. To make sure our quality remains high, we package and prepare each batch ourselves. It's more work, but the result is worth it to us. 

P: What is your favorite part of running your own business?

L: The best part of running my own business is the ability to keep progressing and learning. It's so rewarding to have a say in the final product and formulations. If we had outside funding or I worked for another apothecary, I'm afraid the ingredient purity would be compromised.

P: What are your dreams for Lunar Herbals?

L: My goal is to provide 100,000 meals to children in India this year. It's a big goal (since it's our first year in business) but I feel confident we can make it happen.

P: We are confident you will too! Thank you for taking the time to chat with us and we look forward to sharing space with you this Saturday. 
To learn more about Lunar Herbals, visit their website and follow them on Instagram.
If you're in the Salt Lake City area, stop by our Maven District shop on Saturday, April 15th between 11 am and 3 pm to meet Lisa and shop her creations.