News
Skin Care Benefits of Roses + a DIY Rose Toner Recipe
by Elaine Lee on May 01, 2023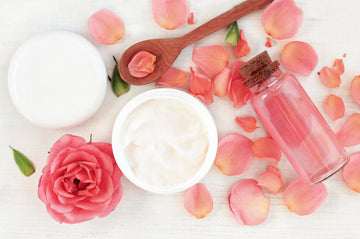 Roses have been for thousands of years, with some of the species being 35 million years old.  The first cultivation of roses dates back to 5,000 years ago. Historically, roses symbolise love, beauty, war, and politics.  In ancient times, from the Egyptians, to Romans, to Chinese, roses were used for face masks, deodorant, eyeliner, blush, celebrations, burials, and medicines. 
In holistic health, roses play a role in women's health when regulating menstrual cycles or menopause.  A study in Taiwan, comprised of 130 women, brewed rose tea. The women reported the tea reduced their menstrual cramps and decreased distress and anxiety. Rose tea also reduces hot flashes and balances hormones for women in menopause. The smell of roses may help one overcome stress, anxiety, and depression by stablizing the mood swings, ease the nervous tension, and relax the body and for a restful sleep.
Amazing info on roses right? Here's more for our beauty lovers!
🌹Roses are rich in vitamin A and E, which are the key factors in keeping the skin hydrated and tighten the skin by reducing fine lines and softening dark circles.
🌹For those who experience dryness or have mature skin, roses are especially beneficial because it protects the barrier of the skin while it hydrates.
🌹Roses support the body's natural collagen production.
🌹Roses contains antioxidants, like vitamin C, to prevent cell damage from UV rays. 
With all these amazing reasons, don't think about tossing out that bouquet of roses or those roses from your garden. Instead, bottle their beauty benefits to by brewing teas or creating facial tonics.
Here's how to make your own rosewater facial toner!
DIY Rose Toner
Gather all of your freshly picked roses and pick off the petals.
Give the petals a good rinse to ensure dirt and bugs are gone.
Measure about 1 cup of rose petals and 1.5 cups of water into a medium saucepan
Boil the water and rose petals for 45 minutes.
Remove from heat and let cool.
Once it's cooled, strain the petals from the rose water. 
To Rosewater, add 1.5 cup of witch hazel (alcohol-free if you can find it), 2 drops of geranium essential oil, and a pinch of sea salt. (Sea salt is used as a preservative to increase the longevity of your product.)
Dispense toner into a spray bottle or into in a tightly sealed mason jar.
Be sure to refrigerate the toner. Not only will this help it last longer, but it'll cool your skin.
To use: depending on container, you can either mist your face or apply some of the toner onto a reusable cotton pad and apply to skin. 
Are you ready to give this toner a try? Be sure to report back and let us know how you liked it! Have more questions about embracing the natural power of botanicals? Drop a question below!
Have fun!
Elaine