News
A Pantry Update
by Michelle Czarka on Sep 19, 2023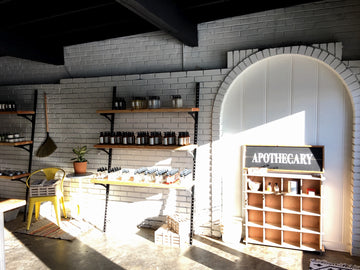 Hello friend,
I hope this message finds you well + enjoying these last few days of summer. I want to take a moment to express my sincere gratitude for your continued support of Pantry Products. It is has been a true delight to see Pantry grow in the last 8 years from a part-time hobby in my tiny kitchen to 2 stores in 2 states with dedicated fans all over the country. 
I am reaching out today to inform you that we are, unfortunately, having to do something we haven't done in a few years: raise our prices. We have been trying to avoid doing so but, after doing all the changes on our end that we could to cut costsmincluding reducing staff, halting the development of new product lines, and closing our production warehouse, we are still struggling to make ends meet. 
On October 1st, our prices will go up on most products. We are informing you ahead of time so that you can stock up before the increase happens. 
Raising our prices is something that is a necessity for us to stay in business. I understand that price changes are never easy + I want to provide you with a transparent explanation of the reasons behind this decision.
Over the past few years, Pantry (and every other business) has experienced a significant increase in the costs of goods and services that are vital to our operations. These rising costs can be attributed to several factors, including supply chain disruptions, increased logistics expenses*, inflation + cost of goods increases**, escalating labor costs***, soaring energy prices****. While we have absorbed these costs and/or made changes to our operations to help offset them, the costs to operate keep increasing. 
We understand that consumers are also being faced with increased prices…at the pump, at the grocery store, at your local coffee shop, at the salon. Price increases are sadly pretty commonplace these days. But, at Pantry, we don't believe in just raising prices on the downlow or saying "prices are going up, deal with it". We want to provide solutions to help make the change easier. 
How to offset the cost increase
Refill - bring in your Pantry containers for refill, buy containers from us, or bring in empty jars of your own. Most of our product cost comes from packaging and labels. If you bring your containers back for us to refill, you save 10%. If you buy from the bulk bar, you can save anywhere from 10-40% off the retail price.
Sign up for our e-newsletter - every Wednesday we send out a coupon code for 20% off an item. We also mail out secret sales, pre-orders, and VIP discounts. These discounts are only available to our subscribers.
Enroll in our in-store loyalty program - it's as simple as providing your phone number. For every purchase you make, you earn a star. Collect 10 stars + receive a coupon for 20% off any future purchase. By signing up, you'll receive a $5 coupon and another on your birthday (if you provide your birth date)
Attend our events - whether it's a sidewalk sale or workshop, we often offer discounts to folks that visit with us.
Once again, I thank you for your continued support. Please know that we are committed to doing whatever it takes to remain open for our customers. Our only ask is that you continue to support us through shopping in-store and online with us and sharing us with your friends + family. 
If you have questions or concerns, we are here. 
Thank you for your understanding + be well.
Michelle
*shipping rates have gone up 14% in the last 2 years with FedEx and UPS looking at another 6% hike in 2023. These are their direct prices. We've seen the price we pay on shipped goods jump 100-150%


**inflation is at almost 15% since 2020. Our soy candle wax cost increased 100%, coconut oil went up 250%


***Since 2023, our labor expenses have increased 88%


****Our energy costs have gone up 54% since 2021