News
3 Fall Simmerpot Recipes – Seasonal Home Scents
by Michelle Czarka on Oct 15, 2023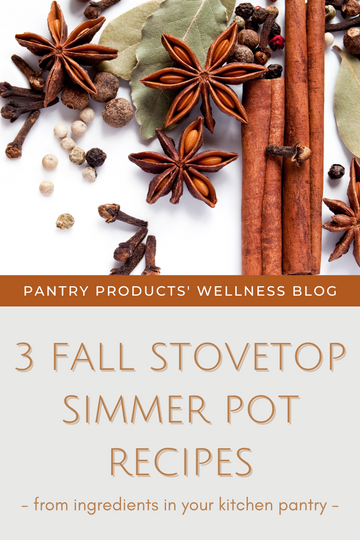 Also known as stovetop potpourri, Stovetop Simmer Pots are a simple way to bring scents of the season into your home. By filling a pot on your stove with water + common ingredients found in most kitchen pantries, you can create your own delicious simmer pot.
Bonus: if you live in an arid climate, this is a fabulous way to add some moisture to your air.
These are very popular in fall and around the holidays but I love to use them year round with whatever fruits or herbs I have around.
To get you in the fall spirit, here are 3 of my favorite fall stovetop simmer pot recipes.
Do you simmerpot? What are your favorite items to use in them? Tell us in the comments!
Cinnamon + Apple
1-2 Cinnamon sticks or ground cinnamon

Apple Peel or slices

2-3 Whole or 1 teaspoon ground Cloves

2-3 Star Anise

Pumpkin Spice
4 Tablespoons apple cider

1-2 cinnamon stick or 1/2 Tablespoon ground cinnamon

1-2 whole or 1 teaspoon ground cloves

dash of nutmeg

water to fill pot
—OR Apple cider + 1 Tablespoon Pumpkin pie Spice—

Citrus Crush
Peel of 1 lemon or lemon slices

Peel of 1 orange or orange slices

1-2 springs rosemary